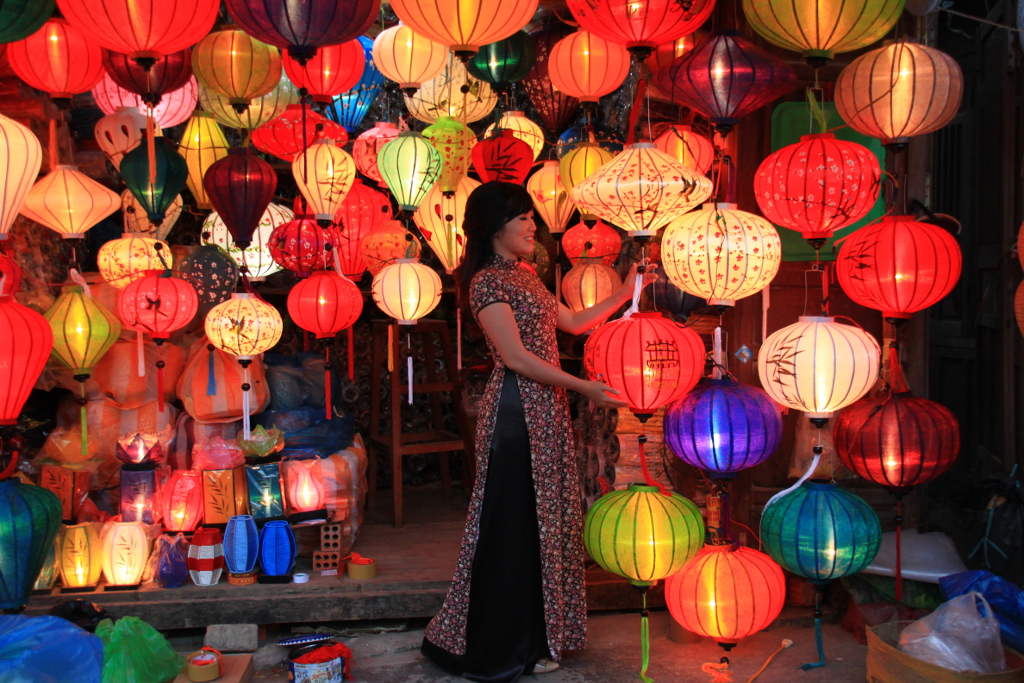 TRAVEL GENERAL INFORMATION
Period of this trip:
March 2014
Country:
Vietnam
Currency used:
Dong and USD
Duration:
2 weeks
Number of travelers:
2
Budget:
2,000 GBP (1000 GPB pp)
Best Period:
– From July to September for North Vietnam
– From November to March for South Vietnam
Guide used:
Lonely Planet
VISA:
YES before arrival
General Info:
Vietnam is a very easy Country to travel and does not required much of planning and preparation. However we didn't have much days of holiday so to maximise our staying we book everything in advance and took always early morning or late flights. Flying in Vietnam is super convenient and low-cost flights are very popular. Find an accommodation or a tour is very easy and can be organized on arrival.
TRAVEL PLAN
Day
Area
What to Do
1
London to Ho Chi Minh
Overnight flight with arrival late in Ho Chi Minh (HCM)
2
Ho Chi Minh
We arrived in Ho Chi Minh just before dinner time.
We had a couple of drinks with view at A&B Tower:

…and then inner in the backpacker area of Pham Ngu Lao. It is actually a very nice areas, full of tourist and little restaurants and bars.

3
Ho Chi Minh
A day dedicated to visit the city main attractions:

The Cho Ben Thanh Market
The Notre Dame Cathedral.

4
Ho Chi Minh
1 day tour to Mekong Delta.

There are plenty of agency in HCM organizing the trip. There is no need to book in advance from Europe. The price is much cheaper.

5
Ho Chi Minh to Ha Noi
Early morning fly to Ha Noi with Viet Jet Air
1 day walking tour in Ha Noi old town (north of the Hoan Kien lake), including Ngoc Son Temple and HCM Mausoleum in Ba Dinh Square. To get there the best way is to take a tuc tuc.Another must see is the Imperial Citadel of Thang Long, UNESCO world heritage.We went to see the Thang Long Water Puppet Theatre, quite nice!
6
Ha Noi
1 day tour to Ha Long Bay.

We booked the tour in Ha Noi. Prices are very convenient and cheaper if booked locally to one of the many agencies around the old town.
This day tour is very tiring: 8 hours by bus (return) and only 3 hours cruise.It is recommended to stay overnight in the boat.

7
Ha Noi to Ho Chi Minh
Another day tour in the old town.

Best restaurant of Hanoi is Bun Bo Nam Bo, 67 Hang Dieu. (meal for 2-3$, amazing taste) –

Late flight from Ha Noi to HCM and overnight in a hotel near the airport.

8-12
Ho Chi Minh to Con Dao
Early morning flight from HCM to Con Dao Island.

The best beach of the island is the one near the airport. Try the local food (Amazing!) at the beach. If you are lucky the owner of the restaurant will invite you to sing karaoke with him and offer you food and drinks!
Rent scooter for 3$ per day – we rented it at the camping.
Things to do:

Snorkeling trip or diving
Visit Pearl farm, Museum/Prisons
Visit local market in the village

Best restaurant is the one opposite to the Con Dao Camping Hotel.
For after dinner go to Cafe' Infinity, bit pricy comparing to the rest, but cocktail are good.

13
Ho Chi Minh
Last city tour.
Best shopping area is Le Loi street near to the Cho Ben Thanh Market
14
Ho Chi Minh to London
Overnight fly to London with arrival 6.30 am…(gosh!)
If you are brave you can also go to work as we did.
TRAVEL COST LIST
HCM Hotel
-3 nights –


Thien Tung Hotel
70-72-74 Pho Duc Chinh St., Dist 1,
Ho Chi Minh City, VN

£79.86
Hanoi Hotel
-2 nights –

Hanoi Royal View Hotel
07 Hang Dau Street,Hoan Kiem District,
Hanoi, 84 VN

£50.79
HCM Hotel (airport area)
-1 night –

Hotel: Ho Chi Minh City
315 Hoang Van Thu,
Phu Nhuan,Ho Chi Minh, 10000 VN

£20.71
Con Dao Hotel
-5 nights –

Con Dao Camping Hotel
02, Nguyen Duc Thuan St.,
Con Dao Dist, VN

£95.28
Flights
Return Fly London – HMC Ethihad Airways (£548 pp)
£1,096
Return Fly HMC – Hanoi Viet Jet Air (£ 75 pp)
£150
Return Fly HMC – Con Dao Vietnam Airlines (£ 95 pp)
£190
Trips & Other
Trip to Ha Long Bay (incl. lunch) (15 USD pp)
£20
Trip to Mekong Delta (20 USD pp)
£30
Snorkeling trip in Con Dao (20 USD pp)
£30
Vietnam VISA (£55 pp)
£110
Total Holiday Cost Range per 2 people (2 weeks)
£1,873.16
Meal
Average Meal Price (£ 1-10 pp)
£2-20
Other
Extra – souvenirs – Shopping – SPA
£300
Total Holiday Cost Range per 2 people (2 weeks)
£2,000 (£1000 pp)
TRAVEL PLAN
"To travel is to live." ― Hans Christian Andersen, The Fairy Tale of My Life: An Autobiography