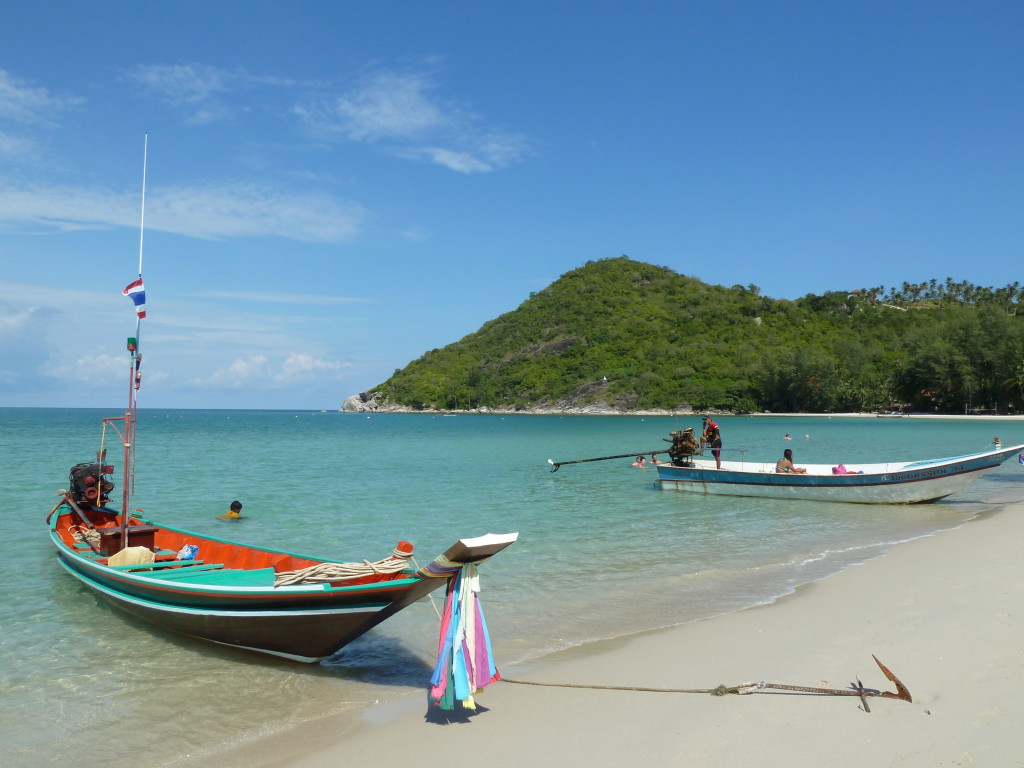 TRAVEL GENERAL INFORMATION
Period of this trip:
October – November 2013
Country:
Thailand
Currency used:
USD and Thai Baht – 1 USD = 40 Baht
Duration:
9 days
Number of travelers:
2
Budget:
2,400-2,600 GBP
Best Period:
November to February
Guide used:
Lonely Planet
VISA:
YES on arrival
General Info:
Travel to Thailand is very easy to plan. No need to book in advance, unless is peak holiday seasons (Christmas and New Year).
All day tour can be arranged locally.
First class train tickets could get sold out quite soon, so it is better to book in advance.
TRAVEL PLAN
Day
Area
What to Do
1
London to Dubai
Overnight flight with arrival early in the morning in Dubai. As we had a long stop over, we decided to spend the day by the beach. We went to Mina A'Salam Hotel and paid the entrance just for the beach.
After all day at the beach, we took late flight to Bangkok.
2
Bangkok
Arrival at night to Bangkok. We stayed in the middle of Khao San road, the backpacker most famous street at Khao San Palace Hotel. Very basic and clean 2 stars hotel, with also a small swimming pool on the roof. The local is very good, however at night is quite noisy because Khao San road becomes a kind of disco club at night, with music until 4am or so.
3
Bangkok
1 day tour of Bangkok – do not need to book an organized tour, can be done on your own and you will enjoy thetuktuk experience!

Grand Palace & Wat Prakeaw – Old City
Wat Arun (The Temple of Dawn) Riverside
sunset at the rooftop of the State Tower's Sirocco or the Banyan Tree's Vertigo and Moon bar
Chinatown old market

4
Bangkok
1 day tour – to book in one of the hundred small tour agency at every corner ofKhao San road and old town. Do not bookon line as it's 3 times more expensive.

The Ancient City of Ayutthaya– UNESCO World Heritage Site 76km (46 miles) north of Bangkok
Visit the Temples of Wat Yai Chai Mongkon and Wat Phra Sri San Phet
Wat Phra Sri San Phet (most photographed attraction in the ruined city, the Buddha's head nestled in between the roots of a fig tree)

5
Bangkok
1 day tour of Bangkok – we did the Damnoen Saduak Floating Market Tour.
At night we took the train+boat passage to Kho Phangan. You will be shocked by the Thailand organizational skills. They are so helpful and organized at each of the train stop. In Bangkok there is English-speaking staff only for tourist helping you not to get lost. At the arrival, other train staff will give you a colored sticker to put on your luggage and your T-shirt so even if they don't speak English they will know where is your final destination. Impressive!!
6
Kho Phangan
We decided to go for a comfortable 3 stars hotel, considering the prices are very low in Thailand. The Hotel is just at the edge of the village, which means less noisy, but in any case 5-10 min walking from the shopping area and 15 from the full moon party beach.1 full day Snorkel Tour to Koh Tao. We bought the tour in the island for 35 USD.
Another 1 hour full body massage before going to the hotel, inclusive of mani and pedi for 15 USD.
Full Moon Party – crazy!
7
Kho Phangan
1 full day boat tour around Kho Phangan. We arranged locally a private boat to go around the island and stop wherever we wanted (20 USD each).
At the return to the hotel we stopped to one of the many SPA for a one hour full body massage at 8 USD.
7
Kho Phangan to Krabi
Boat + Bus passage to Krabi. This took us 7 hours more or less – 18 USD each.
Krabi is a very nice small town with lots of restaurants and shops. Krabi's town beach is not great, but it's not far from many other beautiful beaches.
8
Krabi
We did 1 day tour to see Bamboo Island, Hin Klang and Phi Phi island, also famous for the movie with Leonardo di Caprio ("The beach"). Phi Phi is a stunning place, however is very very very touristic and the amount of boats is excessive.
9
Krabi
1 day tour to 4 islands Phra Nang Cave, Tup Island, Chicken Island and Poda Island. We enjoyed more this trip than the previous one, because there were less people and less boats allowing you to snorkel properly.
10
Krabi to Bangkok
Last day in Krabi relaxing at the hotel pool and afternoon taxi passage to Puket for our flight to Bangkok.
11
Bangkok
Final full day shopping in Bangkok and overnight fly to London with arrival 6.00 am just in time for a shower, breakfast and ready to go to work.
For good shopping (replicas) go to:
MBK Centre
444 Phayathai Rd,
Bangkok, Pathumwan – read out
TRAVEL COST LIST
Bangkok Hotel
-4 nights – (incl return)

Khao San Palace Hotel
139 Khao San Road
Phranakorn
Bangkok 10200, Thailand
Tel. +66 2 282 0578
web:www.khaosanpalace.com

£55
Koh Phangan
-4 nights –

Blue Hill Beach Resort 3 star
117/9 moo6 – Haad Rin Nai,
Ko Pha-ngan, Surat Thani 84280, Thailand
Tel+66 77 375 557
web:www.bluehillbeachresort.com>

£130
Krabi
-2 nights –
Although the Hotel was really nice and with pull, it was far from the city centre. Free shuttle was available, but I would not recommend this hotel. Better to look something more central.
£90
Flights, Trains, Buses
Return Fly London – Bangkok – Emirates Airways (£620 pp)
£1,240
Fly from Puket to Bangkok (£93 pp)
£186
1st class Train + Boat from Bangkok to Koh Phangan ($ 45 pp)
To book online www.thailandtrainticket.com (adding a small fee)
£55
Boat and Bus from Koh Phangan to Krabi ($18 each)
£22
Taxi from Bangkok airport to Khao San road ($15)
£10
Taxi from Krabi to Puket Airport ($100)
£67
Trips & Other
1 stop Dubai – access to beach
£87
1 day tour – Around Bangkok (20 USD each)
£27
1 day private boat tour in Kho Phangan (20 USD each)
£26
1 day snorkeling tour in Kho Tao (35 USD each)
£47
1 day tour – Krabi to Phi Phi islands (35 USD each)
£47
1 day tour – Krabi to 4 islands (35 USD each)
£47
Total Holiday Cost Range per 2 people (10 days)
£2,135
Meal
Average Meal Price (£ 2-5 pp)
£4-10
Other
Extra – souvenirs – Shopping – SPA
£300
Total Holiday Cost Range per 2 people (10 Days)
£2,500
TRAVEL MAP
"To travel is to live." ― Hans Christian Andersen, The Fairy Tale of My Life: An Autobiography