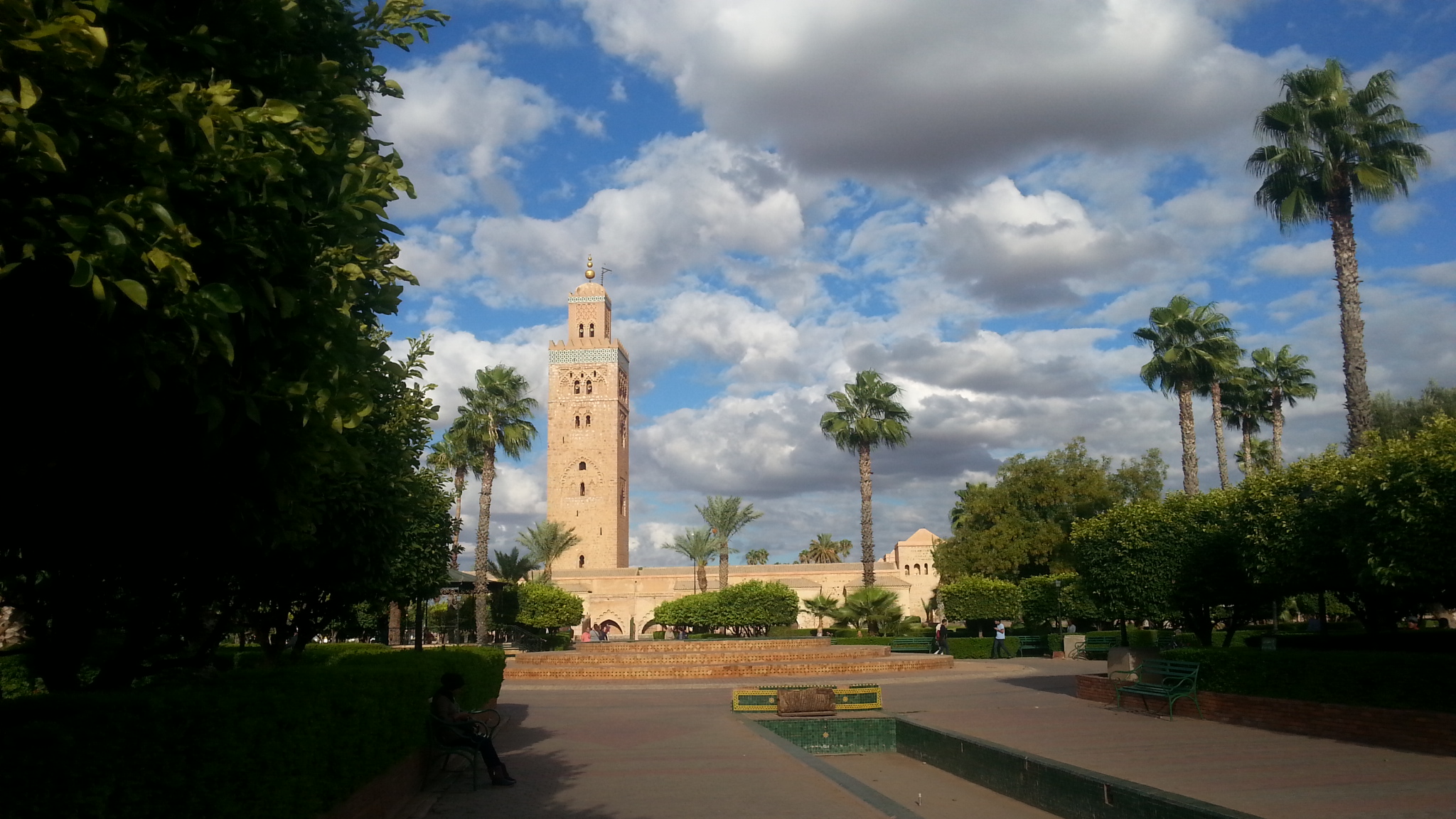 TRAVEL GENERAL INFORMATION
Period of this trip:
October 2015
Country:
Morocco
Currency used:
Dirhams
Duration:
1 week
Number of travelers:
3
Budget:
Up to 890 GBP (ca £300 pp)
Best Period:
All year
Guide used:
Lonely Planet
VISA:
No
General Info:
Morocco is a country in north Africa, where you can find mountains and desert. Its culture is a blend of berber, arab, sub-saharian and french influences. Marrakesh is a major city in the northwest of Morocco, it was built by moroccan berber empire. It is a popular tourist destination. With 18 souks, Marrakesh has the largest berber market in Morocco. A place to get lost and haggle!
An exotic destination, close to Europe!
TRAVEL PLAN
Day
Area
What to Do
1
From Madrid to Marrakesh
Ryanair flight from Madrid to Marrakesh. We booked previously a private car from the airport to the riad. It took about 20 minutes to arrive to our accommodation. The driver was really nice and he also spoke Spanish, giving us advice and recommendations about Marrakesh.
After we arrived at our accommodation, we had dinner in a restaurant near the riad. And we had the first experience of the wild traffic in Marrakesh, take care!
2
Marrakesh (La Mellah)
The first step we did was to change Euros to Dirhams in Jemaa el Fna, the best place for this operation is Hotel Ali.
Our first full day was spent in the old Jewel quarter, visiting El Bahia Palace (1€) which owns one of the most important architectural works of Marrakesh. The ceilings are astonishing. Then we went to the Saadian tombs (1€), where we queued to enjoy the room with the 12 columns. The decoration is so beautiful, that it leaves you speechless. El Badi Palace was closed that day so we went to see the Mosque El Manour, near this place we had lunch in a restaurant while we listened the call to prayer. After that, we went to visit Dar Si Said Museum (1€) where you can find Moroccan art. Then we decided to go back to Jemaa el Fna and drink a mint tea in one of their roofs. We got lost, which its quite easy in these tiny streets of Mellah, but, on the other hand, a nice way to see non touristic places. A GPS is really helpful, because there is no map with every single street of the Medina. It´s a maze of alleyways.
Finally, we enjoyed a mint tea with a lovely view of Jemaa el Fna during the sunset, where tons of people are walking, singing, selling stuff, and where you can also find snake charmers…
3
Marrakesh (Medina)
In the Medina you can visit the Marrakesh Museum (5€) where I fell in love with its main courtyard and its spectacular and huge lamp. Next to this place you can find Ali Ben Youssef Medersa (1€), the biggest one in Morocco, with more than 900 students. In front this Medersa you can see the Ben Youssef Mosque.
For 5€ you can visit a private Berber museum, Fundation Omar Benjelloun, which I highly recommend. After lunch, we had our first time strolling through the souks. Time for haggling and shopping!
4
Marrakesh (Medina)
We started the day visiting the El Badi Palace (1€) and the Minbar. At the time of our visit, the Palace was undergoing restoration, but the views of the Medina from the roof are really great. A great place for some pictures, Mosque La Koutoubia and the gardens around it.
We had dinner at Chez Ali, a place where it is possible to enjoy also a berber fantasy show with music, horses and various artists. Booking is necessary and we did it in a place in the Medina for 35€. There are several places in the Medina where it is possible to book this show or  excursions;  the majority of riads also offer this service, but at a higher price.
5
Ait Ben Haddou and Ouarzazate
We booked an excursion to Ouarzazate the day before. We asked in a couple places and haggle is recommended as some of those in our very same excursion paid double the price we paid. The bus picks you up and drops you off at your accommodation. In total, we were 21. You have to cross Atlas mountains, the views are wonderful! Before the first stop, Ait Ben Haddou, you stop in a couple of spots, where you can enjoy the panorama of the mountains (it´s windy, so take a jacket with you) and small berber villages, where people live thanks to the shepherding, (it's like traveling to the past!). You can find great places to buy Argan oil 100%. Ait Ben Haddou is well known for its kasbah, a place where Gladiator, Game of Thrones and many more movies and tv shows have been filmed. One of my favourite places that I saw in this trip, by the way.
After lunch, we went to Ouarzazate, known as the door of the desert.
We arrived on time for a dinner at Café Guerrab, near Jemaa el Fna. Recommended!
6
Marrakesh (Medina and Majorelle garden)
Our last full day was spent at Majorelle Garden, where you can find the Yves Saint Laurent Memorial. Honestly, a good place to relax and unwind from the hustle and noise of the Medina.
After that, we went to see the Zaouia Sidi Bel Abbes, near Bab Tarhzout, the only religious place, that non-muslim can see. The distric is different from the rest of the Medina, with few turists, which makes it interesting.
7
From Marrakesh to Madrid
Before our flight, we spent the morning shopping in the souks. Time for some haggle and bring some souvenirs for family and friends with you!
On time, our driver picked us up at our accomodation and took us to the airport. Sadly, our moroccan trip ended!
TRAVEL COST LIST
Marrakesh Riad
– 6 nights-
Riad Bachawya
Rue Bab Ighli, Mechoir Said, Quartier Kasbah, Derb Chtouka N°57,
40000 Marrakesh, MaroccoTriple room with breakfast – Local taxes included.
270 €
Trips & Other
Private Car


From Airport to Marrakesh Riad – from Marrakesh Riad to Airport

26 €
3 El Bahia Palace Tickets (1€ pp)
3 €
3 Saadian Tombs Tickets (1€ pp)
3 €
3 Dar Si Said Tickets (1€ pp)
3 €
3 Ali Ben Youssef Medersa Tickets (1€ pp)
3 €
3 Marrakesh Museum Tickets (5 € pp)
15 €
Ouarzazate Excursion (20 € pp)
60 €
Chez Ali Excursion (35 € pp)
105 €
Taxi from Jemaa el Fna to Majorelle Garden (4 € one-way)
8 €
Meal
Average Meal Price
12-30 € pp
Drinks Price
1-3 € pp
Total Holiday Cost Range per 3 people (1 weeks)
(inclusive of meals, souvenirs etc, excluding international flights)

NB: Souvenir price depends your ability to haggle, stuff quantity and stuff quality that you would like to buy
1.023 €
International flights
Madrid to Marrakesh – return – Ryanair (59 € pp)
177 €
Total Holiday Cost Range per 3 people (1 week)
1.200 €
£ 890
TRAVEL PLAN MAP
"It is good to have an end to journey toward; but it is the journey that matters, in the end." ― Ernest Hemingway