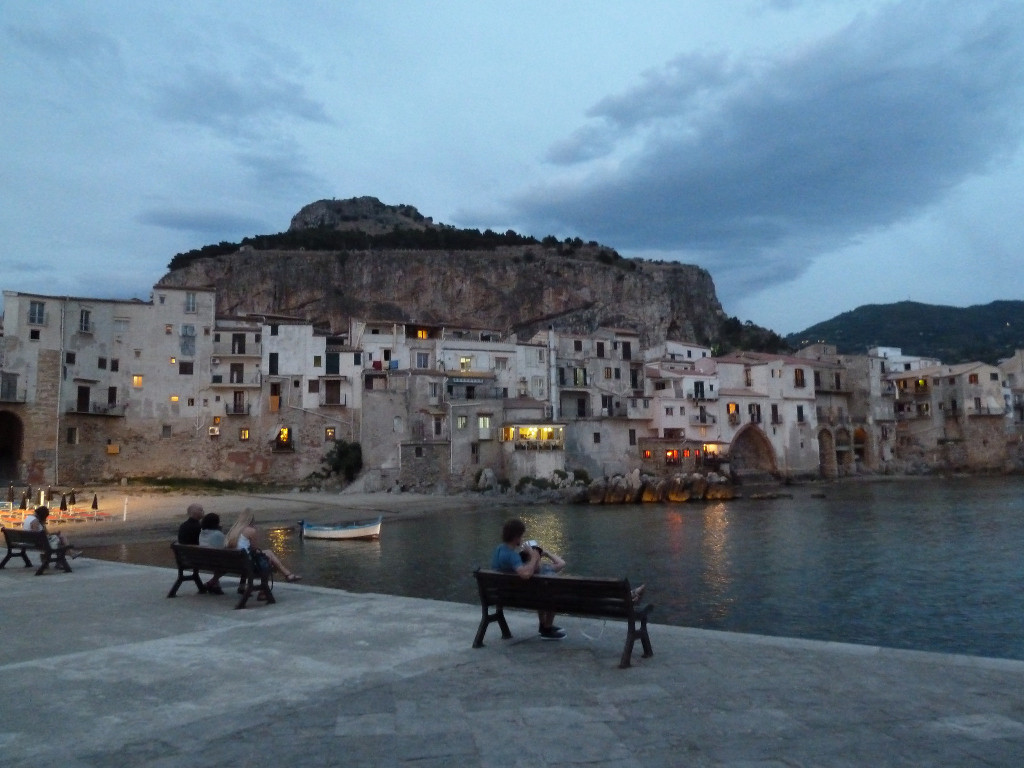 TRAVEL GENERAL INFORMATION
Period of this trip:
June 2014
Country:
Italy, Sicily
Currency used:
Euro
Duration:
10 days
Number of travelers:
2
Budget:
1500 GBP (750 GBP pp)

Best Period:
from April to October (to avoid August – peak season)
Guide used:
Na
VISA:
None for EU citizens
General Info:
Sicily is the best place for art, culture, hiking, adventure, beaches, amazing food and more….
Advance booking is recommended.
TRAVEL PLAN
Day
Area
What to Do
1
London to Palermo
Ryanair flight from London to Palermo. Car hire at the airport (pre-booked) to head to Cefalu – 60km east Palermo.
2-7
Cefalu
We rent an apartment in the old town from a friend. It was really in a perfect location near all restaurants, cafe' and 10 min walking from the beach.
We did few day trips:

Piazza Armerina (Roman Villa del Casale) (140 km)  Unesco World Heritage
Taormina (222 km)
Mount Etna Hiking and Nature Trail – Many tours available
Alcantara Gorges, Botanical and Geological Park

8
Zingaro reserve, Erice, Terrasini
Last day in Sicily, we decided to head in the western side of Palermo. We spent all day in the stunning "Zingaro" nature reserve – See pics…looks like Caribbean sea!!Just before the sunset, we went to Erice, a stunning

medieval hilltop town near Trapani

. The view is stunning.As we had morning flight from Palermo, we decided to stop by near the airport in the surprisingly nice small town of Terrasini. B&B we found was really good.
9
Palermo
End of trip – early morning flight back to London.
TRAVEL COST LIST
Cefalu apartment


-1 week –

We rented a 3 beds apartment from a friend in Cefalu' old town. Cost may vary according to season (from 400€ to 700€) – lauraruvolo@gmail.com
700 €
Terrasini B&B
-1 night –

B&B Terrasole
Via Francesco Cripsi 90,
90049 Terrasini, Sicily, Italy
e-mail:Info@tarrasolebb.it

35 €
Car Hire
Small car hire (with insurance)
245 €
Trips & Other
Petrol
200 €
Roman Villa del Casale entrance fees (10€ pp)
20 €
Alcantara Gorges
Free
Zingaro reserve (5€ pp)
10 €
Etna Hiking tour (X2)
80 €
Meal
Meal Price
10-25 €
Drinks
1-2 €
Total Holiday Cost Range per 2 people (10 Days)


(inclusive of meals, souvenirs etc, excluding international flights)

1.700-2.000 €
International flights
London/Palermo –Ryanair–
up to 150 €
Total Holiday Cost Range per 2 people (10 Days)
1.850-2.150 €
£1,400-1,600
TRAVEL PLAN MAP
"To travel is to live." ― Hans Christian Andersen, The Fairy Tale of My Life: An Autobiography